Byron Katie has helped thousands of people all around the world find more joy in life through her simple process she calls "The Work."
The Work began as a gentle realization during a low point in Katie's life. She has said since this realization occurred, she hasn't lived a day without joy.
As her inner life changed, so did her outer life, and people began to take notice. Others asked to learn her secret and as she taught them and their lives improved, demand for her teachings grew.
Soon she was speaking all across the United States and Europe. She wrote books, made DVDs, held workshops, and made it her passion to lead others to The Work so more lives could improve.
Because her method was so simple yet so effective, it wasn't long before Byron Katie became one of the big name self help authors, and she made appearances on talk shows such as Oprah and was featured in magazines such as Time. She received praise from other self help authors like Eckhart Tolle, Wayne Dyer, and Louise Hay. Her brand has grown to include books, CDs, DVDs, merchandise, retreats, and even a residential school for learning The Work.
The Life Of Byron Katie And How The Work Was Born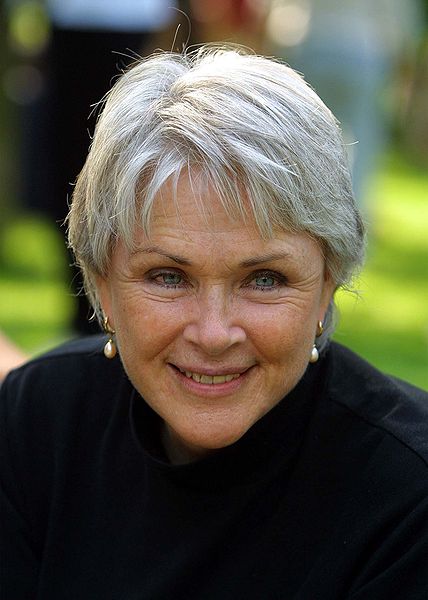 Byron Katie was born on December 6, 1942 and went on to become a businesswoman in California. Before Byron Katie had her realization, her life was in turmoil and she had spiraled down to the point where she rarely even left her room.
She had suffered through a decade of severe depression and thoughts of suicide. She struggled with self loathing, paranoia, and rage. She alienated her family - and herself.
By 1986, Byron Katie was in a halfway house because of her eating disorder, sleeping alone in the attic because she herself felt that she was too nasty to other people to be near them - and sleeping on the floor most days because she felt that she did not deserve the comfort of a bed. It was in February of that year when she woke up one morning in the halfway house and had the realization that would change her life forever.
On that fateful morning, Byron Katie realized her thoughts were responsible for her misery. She came to understand if she believed her thoughts she felt bad and if she didn't believe them she could feel joy.
She began to question the validity of her thoughts, and began to defeat them by simply asking herself if they were true. What emerged beyond the thoughts was her true self - accompanied by feelings of joy, bliss, happiness and unconditional love.
And so everything changed. She was no longer the same person, and she set about repairing her relationship to her family and the rest of her life which she had pretty much ruined in her earlier, ego-driven state of mind.
She does not call herself spiritually enlightened, she merely says that she sees simple the truth of things.
After what others would consider her enlightenment, she realized that suffering was an optional state of being, all she had to do was choose not to believe her bad thoughts. As she worked on herself and taught The Work to others, she came to call her method "self inquiry" because she realized the importance of always questioning our thoughts rather than letting them control our lives.
Some of the books described below are also available as ebooks and audibles.
Byron Katie Books And Media
•
Loving What Is: Four Questions That Can Change Your Life
- This book was originally published in 2002. It teaches the author's self help ideas to readers so they can apply them in areas where they are experiencing struggle such as health, relationships, work, and happiness. Byron Katie instructs readers on the questions to ask about the truth of their thoughts and how to apply self inquiry to their lives so they can experience joy on a daily basis. Loving What Is is also available as an audio book on CD.
•
I Need Your Love - Is That True?
- Published in 2005, this book offers self help advice to readers who struggle with relationship issues. The process of doing The Work is the same message but this book is devoted to helping people find more love in their relationships with others. This popular Byron Katie book is also available on CD.
•
A Thousand Names for Joy: Living in Harmony with the Way Things Are
- In this book, Byron Katie goes beyond teaching her self help ideas and describes more fully what life is like after successful self inquiry leaves readers filled with joy and enlightenment. A Thousand Names for Joy is available as a book and on CD as an audio book.
•
Question Your Thinking, Change the World: Quotations from Byron Katie
- This book was published in 2007 and it contains self help tips from Byron Katie in the form of quotations that offer wisdom and further instruction in The Work. The Byron Katie quotes contained in the book are complied from her previously published works.
•
Who Would You Be Without Your Story?
- Published in 2008, this interesting book details the stories of some of the people who have been helped through The Work and Byron Katie's teachings. Their stories inspire, entertain, and education readers.
•
Tiger-Tiger, Is It True?
- This book introduces Byron Katie and her self help ideas to young readers as they become enthralled with the tale of a tiger who thinks his world is filled with misery. He thinks life isn't fair, he doesn't have any friends, and his parents don't love him. Thanks to a wise turtle, the tiger begins to question his thoughts and discovers he truly can be happy if he chooses not to believe bad thoughts.
•
Peace in the Present Moment
- This gift book combines Byron Katie quotes with quotes from Eckhart Tolle. They are presented with stunning color photographs of beautiful flowers.
•
Specialty books
- Byron Katie has written a series of small books that help readers deal with individual problems. These include Byron Katie on Health, Sickness, and Death, Byron Katie on Parents and Children, Byron Katie on Work and Money, Byron Katie on Self-Realization, and Byron Katie on Love, Sex, and Relationships.
•
Audio books on CD
- Byron Katie has several tapes available that contain her self help ideas as directed towards specific life problems. These include: Mental Cleanse, Guided Meditations with Katie, The Work on Autism, My Son Disrespects Me-Is It True?, "Being Gay Is Unnatural"-Is It True?, The Truth Behind Addiction, Parents Meet Their Children Through The Work, Abuse: What Forgiveness Really Looks Like, I Wish My Body Were..., My Mother Is..., The End of Suffering, Economic Recession, My Wife Wastes Her Days, Loving the Mentally Ill, Love Stories For Fathers & Sons, The Work on God, Cancer Meets Inquiry, You Were Supposed to Make Me Happy, Fathers & Sons, Life & Death, End The War With Yourself, and The Work on Children.
•
Talks on DVD
- The self help advice of Byron Katie is available in the form of talks on DVDs. These help spread the message of The Work in a way that helps people who are struggling with specific life difficulties. These include: Turn It Around, the movie, My Son Disrespects Me-Is It True?, The Work on Autism, "Being Gay Is Unnatural"-Is It True?, Fear of Flying, Catching Up With Reality, Loving The One You're With, Living With Cancer, Loss of a Loved One, Dyslexia: What A Gift!, Where's Your Proof, The Perfect Body, and Prison of the Mind.
Byron Katie And Teaching The Work Today
Byron Katie has proven to be one of the more popular self help authors alive today. She has written many helpful books and also devotes much of her time teaching in person.
In addition to seminars and lectures, Katie offers a nine day class and a 28 day intensive for those on the path of self inquiry.
The Byron Katie workshops are held in cities all around the globe as she travels the world to spread her message of hope and joy.
The 28 day program is held in the Turnaround House and is a residential program dedicated to helping others overcome addiction and get on the path to beingness, truth and true joy.
---
The Personal Development Guy's Self Improvement Ezine (FREE)
Would you like to keep in touch - and get high-level tips and special bonuses? Then please sign up for my self improvement newsletter The Personal Development Guy's Self Improvement Ezine. It is totally FREE.
---
I LOVE Your Support
If you've found the free personal development content on this website useful, please click the Donate button. Your donation will help me to keep producing free, high-level self improvement information. I am VERY GRATEFUL for your support!
PayPal is one of the largest payment processors on the Internet. When you click the Donation Button, you can make a donation of your choice on an encrypted and secure page.
Thank you very much!
---
---

Inspirational Quotes, Poems and Funny Short Stuff
If you want, you can also get your personal development, spirituality and general wisdom in an ultra light version - or even add your own wisdom to the site. Just go to the other sister of this website at:


Quotescoop.com
- World's Best and YOUR Best Quotes, Poems and Short Funny Stuff

Quotescoop.com is also known as:
(http://www.inspirational-quotes-short-funny-stuff.com).
This is where you might go for a quick 'fix' of wisdom and humor. A special treat is that this site has forums for you to present your own wisdom and humor in the form of inspirational short funny quotes, jokes, notes, letters, stories, SMS text messages and poems. Share your wisdom and witticisms with the world!



---

High-Level Positive Parenting Advice and Deep Insights
Positive Parenting Ally is the parenting equivalent of the Personal Development Guy. This is where you go if you want really deepen your understanding of parenting, empower your kids and make everyday life more easy and joyful.

Positive-Parenting-Ally.com
- Parenting advice for the conscious, open-minded parent!



Back to the top of this page about Byron Katie Spreads Her Message Of Hope And Joy Through a Process Of Self Inquiry Called 'The Work'
Where Would You Like to Go Next?
To see what has been added to this site recently (plus offers, etc.), check out
Blog & News at thePersonalDevelopmentGuy.com
To share your own
short
self improvement ideas, tips, musings, quotes, stories, spiritual jokes, etc. (and read the short ideas, etc. others have shared) jump to
Shared Blog: Self Improvement Ideas
Jump to
the Personal Development Guy Homepage
Jump to
Self Help Books
.
List of articles about self help books listed alphabetically:
Alfred Adler
,
Barbara De Angelis
,
Maya Angelou Biography
,
Arjuna Ardagh
,
Richard Bandler
,
Brandon Bays
,
Alain de Botton
,
Gregg Braden
,
Brene Brown
,
Les Brown
,
Leo Buscaglia
,
Tony Buzan
,
Andrew Carnegie Biography
,
Carlos Castaneda
,
Pema Chodron
,
Deepak Chopra
,
Deepak Chopra Books
Paulo Coelho
,
Stephen Covey
,
Peter Drucker
,
T. Harv Eker
,
Masary Emoto
,
Timothy Ferriss
,
Debbie Ford
,
Viktor Frankl
,
Mahatma Gandhi
,
Gangaji
,
Shakti Gawain
,
Kahlil Gibran
,
Daniel Goleman
,
Amit Goswami
,
Alex Grey
,
Stanislav Grof
,
David Hawkins
,
Louise Hay
,
Hermann Hesse
,
Esther Hicks and Jerry Hicks
,
Napoleon Hill
,
Susan Jeffers
,
C G Jung
,
Jon Kabat-Zinn
,
Byron Katie
,
Robert Kiyosaki
,
Bruce Lipton
,
Ramana Maharshi
,
J W Marriott
,
Abraham Maslow
,
John Maxwell
,
Drunvalo Melchizedek
,
Anthony de Mello
,
Anthony De Mello Quotes
,
Dan Millman
,
Bruce Moen
,
Robert Monroe
,
Michael Newton
,
Daniel Pink
,
Dave Ramsey
,
Ayn Rand Books
,
James Redfield
,
Cheryl Richardson
,
Anthony Robbins
,
Anthony Robbins Books
Carl Rogers
,
Jim Rohn
,
Marshall Rosenberg
,
Geneen Roth
,
Don Miguel Ruiz
,
Robin Sharma
,
Barbara Sher
,
George Soros Biography
,
George Soros Quotes
,
Eckhart Tolle
,
Brian Tracy Books
,
Neale Donald Walsch
,
, Joe Vitale
,
Lyall Watson
,
Alan Watts
,
Stuart Wilde
,
Marianne Williamson
,
Larry Winget
,
Gary Zukav
,
Best Self Help Books
,
Self Help Books for Women
,