Brandon Bays is an acclaimed practitioner of mind-body medicine.
She developed a method she calls The Journey that she used to cure herself of a serious illness.
Since her recovery, she has been dedicated to teaching The Journey to people all around the world so they can heal physical and emotional issues.
She offers her self help advice in workshops, videos, audios, and books.
The Background of Brandon Bays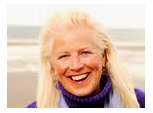 Brandon Bays was diagnosed with a basketball sized tumor in 1992 when she was 39 years old.
Because she held a belief in natural and holistic methods, she chose not to have surgery or chemotherapy. Instead, she embarked on a journey to connect with her soul and the wisdom of her cells in order to bring about a healing in her body. Much to the amazement of her doctors, she was able to reverse her large tumor in just 6 ½ weeks.
After she was healed, she realized she had stumbled onto a powerful mind-body technique that she could teach to others. She wrote of her experiences in her first book, "
The Journey
."
The book received such a positive response that Brandon Bays went on to develop her teachings into workshops.
The Principles Behind The Journey Of Brandon Bays
T
he Journey
is based upon mind-body medicine. Some of the ideas were drawn from the work of Dr. Deepak Chopra, a medical doctor who has written numerous spirituality and self improvement books. Brandon Bays was also influenced by Dr. Candace Pert, a neuroscientist who wrote "
Molecules Of Emotion: The Science Between Mind-Body Medicine
."
The Journey is a type of surrender where the ego gets out of the way and allows one to access the unlimited potential of the soul in order to heal emotions or physical problems.
Brandon Bays has honed her message over the years as she has had more experience with her techniques and practiced them on more and more people. What started out as a book based on her personal experience has now evolved into a movement derived from the experiences of many.
She also teaches that humanity is reaching a heightened state of awareness that allows everyday people to benefit from powerful mind healing techniques.
Books By Brandon Bays
• "The Journey" was her first book and was originally published over 20 years ago. This book by Brandon Bays is still in print and acts as an introduction to her workshops and videos. In it, she teaches readers how to tackle their negative emotions in order to eliminate their toxic effects on cells of the body.
She also promotes relaxation exercises in order to bring the body into a state of serenity that is needed for healing. Brandon Bays used this method along with proper nutrition and natural medicine to heal a tumor in her body, but the same method works on emotional problems as well such as anxiety, grief, and depression. "The Journey" is also recommended for those on a path towards deeper spiritual awareness even if a healing is not needed.

If you click on the image to the left it will open a new tab/window on Amazon.com, where users have given this book 4 stars out of 5.

The book can also be bought as an ebook in the flexible Amazon Kindle format (which works on PC, Mac, Android smartphone & tablet, iPad and iPhone)
- to check out the Kindle ebook on Amazon.com, please click this link: The Journey


• " Freedom Is: Liberating Your Boundless Potential" guides readers toward the elimination of emotional blocks and limitations. In this book she offers inspiring stories from her seminars along with meditations, process work, and techniques that help to lift away negative self images and replace them with freedom to expand personal healing.

If you click on the image to the left it will open a new tab/window on Amazon.com, where users have given this book 5 stars out of 5.

The book can also be bought as an ebook in the flexible Amazon Kindle format (which works on PC, Mac, Android smartphone & tablet, iPad and iPhone)
- to check out the Kindle ebook on Amazon.com, please click this link: Freedom Is
• "Living The Journey: Using The Journey Method to Heal Your Life and Set Yourself Free" is an interesting book that contains stories from people who have used The Journey method to transform their lives. In this book, 16 people tell how they overcame such adversities as cancer, chronic pain, post traumatic stress disorder, and devastating grief. The stories act as inspiration for readers and anecdotal proof that mind-body healing is possible and being performed by average people all around the world.

If you click on the image to the left it will open a new tab/window on Amazon.com.
• "The Journey for Kids - Liberating Your Child's Shining Potential" is a book similar to "Living The Journey" except this book contains stories from children who have used the process to heal themselves or develop spiritually. The book is appropriate for kids but is also inspiring and educational for adults as it explains how The Journey process can be used to improve the lives of children.

If you click on the image to the left it will open a new tab/window on Amazon.com, where users have given this book 4.5 stars out of 5.
Workshops With Brandon Bays
Brandon Bays teaches the principles of The Journey in various workshops. She also trains practitioners so numerous workshops can be held in cities all over the world. Introductory workshops are often free of charge.
•
The Journey Intensive
is the basic workshop that teaches the step by step techniques needed for life transformation. The workshop lasts for two days and teaches how to uncover cellular memories that are being held in the body and blocking growth. Clearing out these blocks allows for freedom and spiritual clarity to blossom. Along with them come healing from physical, emotional, and spiritual adversities.
•
Healing with Conscious Communication
is a workshop held over a 2 ½ day weekend that teaches how to communicate more effectively, from an open heart, so personal transformation can begin.
•
Manifest Abundance
is another two day residential workshop that teaches how to eliminate the patterns that block abundance and prosperity. Once those are removed, students learn how to joyously create a life filled with an abundance of money, love, and freedom.
•
The No Ego Retreat
lasts for a full seven days and is designed to clear away the lies of the ego. Old patterns and negative traps are identified and true soul nature is nurtured
•
Life Transformation Week
is an eight day immersion into a state of grace. This retreat is used to deepen understanding of The Journey principles and transition from student to master. This qualifies as practitioner training for those who wish to spread the teachings of The Journey in a professional practice.
Beginning The Journey
Accessing the teachings of Brandon Bays as outlined in The Journey is easy to do for anyone who is seeking a personal healing of some sort or spiritual growth. It isn't necessary to attend a days long seminar.
The self help books of Brandon Bays are readily available and provide a good starting point for beginning the journey. The books are available as traditional books, ebooks, and audio books.
Accessing the techniques is the easy part. To gain benefit from what Brandon Bays teaches, it is necessary to commit to consistently practicing the process and be willing to undergo what may be painful emotional self examination.
Based on the belief that negative thoughts affect the health of body cells, this mind-body healing method teaches these negative thoughts must be expelled and replaced with serenity and love.
---
The Personal Development Guy's Self Improvement Ezine (FREE)
Would you like to keep in touch - and get high-level tips and special bonuses? Then please sign up for my self improvement newsletter The Personal Development Guy's Self Improvement Ezine. It is totally FREE.
---
I LOVE Your Support
If you've found the free personal development content on this website useful, please click the Donate button. Your donation will help me to keep producing free, high-level self improvement information. I am VERY GRATEFUL for your support!
PayPal is one of the largest payment processors on the Internet. When you click the Donation Button, you can make a donation of your choice on an encrypted and secure page.
Thank you very much!
---
---

Inspirational Quotes, Poems and Funny Short Stuff
If you want, you can also get your personal development, spirituality and general wisdom in an ultra light version - or even add your own wisdom to the site. Just go to the other sister of this website at:


Quotescoop.com
- World's Best and YOUR Best Quotes, Poems and Short Funny Stuff

Quotescoop.com is also known as:
(http://www.inspirational-quotes-short-funny-stuff.com).
This is where you might go for a quick 'fix' of wisdom and humor. A special treat is that this site has forums for you to present your own wisdom and humor in the form of inspirational short funny quotes, jokes, notes, letters, stories, SMS text messages and poems. Share your wisdom and witticisms with the world!



---

High-Level Positive Parenting Advice and Deep Insights
Positive Parenting Ally is the parenting equivalent of the Personal Development Guy. This is where you go if you want really deepen your understanding of parenting, empower your kids and make everyday life more easy and joyful.

Positive-Parenting-Ally.com
- Parenting advice for the conscious, open-minded parent!


Back to the top of this page about Brandon Bays Takes Readers on The Journey to Healing
Where Would You Like to Go Next?
To see what has been added to this site recently (plus offers, etc.), check out
Blog & News at thePersonalDevelopmentGuy.com
To share your own
short
self improvement ideas, tips, musings, quotes, stories, spiritual jokes, etc. (and read the short ideas, etc. others have shared) jump to
Shared Blog: Self Improvement Ideas
Jump to
the Personal Development Guy Homepage
Jump to
Self Help Books
.
List of articles about self help books listed alphabetically:
Alfred Adler
,
Barbara De Angelis
,
Maya Angelou Biography
,
Arjuna Ardagh
,
Richard Bandler
,
Brandon Bays
,
Alain de Botton
,
Gregg Braden
,
Brene Brown
,
Les Brown
,
Leo Buscaglia
,
Tony Buzan
,
Andrew Carnegie Biography
,
Carlos Castaneda
,
Pema Chodron
,
Deepak Chopra
,
Deepak Chopra Books
Paulo Coelho
,
Stephen Covey
,
Peter Drucker
,
T. Harv Eker
,
Masary Emoto
,
Timothy Ferriss
,
Debbie Ford
,
Viktor Frankl
,
Mahatma Gandhi
,
Gangaji
,
Shakti Gawain
,
Kahlil Gibran
,
Daniel Goleman
,
Amit Goswami
,
Alex Grey
,
Stanislav Grof
,
David Hawkins
,
Louise Hay
,
Hermann Hesse
,
Esther Hicks and Jerry Hicks
,
Napoleon Hill
,
Susan Jeffers
,
C G Jung
,
Jon Kabat-Zinn
,
Byron Katie
,
Robert Kiyosaki
,
Bruce Lipton
,
Ramana Maharshi
,
J W Marriott
,
Abraham Maslow
,
John Maxwell
,
Drunvalo Melchizedek
,
Anthony de Mello
,
Anthony De Mello Quotes
,
Dan Millman
,
Bruce Moen
,
Robert Monroe
,
Michael Newton
,
Daniel Pink
,
Dave Ramsey
,
Ayn Rand Books
,
James Redfield
,
Cheryl Richardson
,
Anthony Robbins
,
Anthony Robbins Books
Carl Rogers
,
Jim Rohn
,
Marshall Rosenberg
,
Geneen Roth
,
Don Miguel Ruiz
,
Robin Sharma
,
Barbara Sher
,
George Soros Biography
,
George Soros Quotes
,
Eckhart Tolle
,
Brian Tracy Books
,
Neale Donald Walsch
,
, Joe Vitale
,
Lyall Watson
,
Alan Watts
,
Stuart Wilde
,
Marianne Williamson
,
Larry Winget
,
Gary Zukav
,
Best Self Help Books
,
Self Help Books for Women
,