Arjuna Ardagh is a spiritual teacher, writer, and popular speaker at New Age and spiritual seminars. He created the Living Essence Foundation and the Awakening Coaching Training program in order to facilitate the awakening of humanity.

About Arjuna Ardagh
Arjuna Ardagh was born on May 3, 1957 in London. He felt a strong spiritual calling at an early age and began meditating and practicing yoga at the age of 14. After graduating from Cambridge with a degree in literature, Ardagh devoted his life to spiritual pursuits, and he studied under some of the most notable spiritual teachers in the world.
In 1991, Arjuna Ardagh spent an extended time in India in meditation. There he met H.W.L. Poonja who studied directly under Ramana Maharshi himself. While working with Poonja, Ardagh underwent a shift in consciousness. He had the profound realization that all along he already had what he was so desperately seeking, and that when he let go of the seeking, he found fulfillment.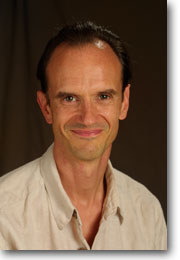 A year later, Ardagh returned to the United States determined to teach people the profound lesson he had learned. He started working with individuals and then began holding classes. Soon he published his first book, "
Relaxing into Clear Seeing.
"
Arjuna Ardagh Books - Books by Arjuna Ardagh
| | |
| --- | --- |
| | • "Relaxing into Clear Seeing: Interactive Tools in the Service of Self-Awakening" was published in 1998. This book by Arjuna Ardagh received praise from other prominent personal development authors and leaders in the spiritual community. In it, Ardagh offers over twenty exercises that lead readers to a state of awakening. Ardagh calls this state of wakefulness 'clear seeing,' and he explains to readers it is the path to better relationships with others, money, and the self. |
| | |
| --- | --- |
| | • "The Translucent Revolution: How People Just Like You Are Waking Up and Changing the World" is a book and ebook by Arjuna Ardagh that was published in 2005. This book explains to readers a phenomenon noticed by Ardagh over the past several years that other spiritual teachers are noticing too. Ordinary people from all walks of life are having spiritual awakenings and it is happening in greater numbers and with less intense spiritual training than was required previously. Ardagh calls these people 'translucents,' and suggests readers can achieve the same state of spiritual awareness while going about ordinary life. This book by Arjuna Ardagh offers hope and inspiration to other spiritual seekers. It draws from his own experiences as a spiritual coach, along with added insight from notable personal development authors such as Byron Katie, Eckhart Tolle, and Neale Donald Walsch. |
| | |
| --- | --- |
| | • "Awakening into Oneness: The Power of Blessing in the Evolution of Consciousness" is a book by Arjuna Ardagh that explains the deeksha phenomenon. Deeksha is a transference of powerful energy that is said to alter brainwaves and induce a sort of unity consciousness. Ardagh tells readers about the pros and cons of the practice and relates stories from people who have received the blessing of deeksha. |
| | |
| --- | --- |
| | • "Leap Before You Look: 72 Shortcuts for Getting Out of Your Mind and into the Moment" is a book, ebook, and audio book that was published in 2008. This work contains 72 practices that help deepen spiritual awareness. By practicing these simple exercises, readers can become more tuned into the present moment. Some of the activities suggested by Arjuna Ardagh include controlling the breath, yawning, feeling fear, talking gibberish, sitting with anger, talking to trees, and staring at the sky. Being fully present in the moment is a spiritual practice that leads to deeper awareness. |
Arjuna Ardagh CDs and DVDs
Arjuna Ardagh created the "Living Essences" audio series. Each CD contains two guided meditations that promote relaxation, reduce stress, connect with inner wisdom, and open the heart to love. He also made the "Let Yourself Go" workshop available on a six CD set. This course encourages listeners to quit trying so hard to steer their lives and to simply let go and enjoy the ride. Ardagh explains this is the path to serenity and effortless joy.

Arjuna Ardagh periodically offers teleseminars that can be attended online or over the phone such as his four-hour "Ultimate Intimacy" seminar. For those who prefer live coaching, Ardagh accepts individual clients into his awakening coaching program.
Arjuna Ardagh Seminars and Coach Training
There are several seminars held in various locations around the world where Ardagh shares his teaching with fellow spiritual seekers. Examples are the Living Awakening Evening Talk held in Frankfurt, Germany and the Living Awakening Weekend Intensive in Grand Junction, Colorado.

Arjuna Ardagh provides a website for his coaching program. On the site, students can look for local coaches and find dates and times for undergoing coaching training.
The mission of the coaches is to spread the message of Arjuna Ardagh much wider than he can do alone. Ardagh still holds true to the original mission he committed to years ago in India to return to the West and share his profound secret to awakening with as many people as possible.
Those who want to stay in contact with Ardagh can do so through his websites, Facebook page, Twitter account, and his blog where he offers frequent doses of information and inspiration.
---
The Personal Development Guy's Self Improvement Ezine (FREE)
Would you like to keep in touch - and get high-level tips and special bonuses? Then please sign up for my self improvement newsletter The Personal Development Guy's Self Improvement Ezine. It is totally FREE.
---
I LOVE Your Support
If you've found the free personal development content on this website useful, please click the Donate button. Your donation will help me to keep producing free, high-level self improvement information. I am VERY GRATEFUL for your support!
PayPal is one of the largest payment processors on the Internet. When you click the Donation Button, you can make a donation of your choice on an encrypted and secure page.
Thank you very much!
---
---

Inspirational Quotes, Poems and Funny Short Stuff
If you want, you can also get your personal development, spirituality and general wisdom in an ultra light version - or even add your own wisdom to the site. Just go to the other sister of this website at:


Quotescoop.com
- World's Best and YOUR Best Quotes, Poems and Short Funny Stuff

Quotescoop.com is also known as:
(http://www.inspirational-quotes-short-funny-stuff.com).
This is where you might go for a quick 'fix' of wisdom and humor. A special treat is that this site has forums for you to present your own wisdom and humor in the form of inspirational short funny quotes, jokes, notes, letters, stories, SMS text messages and poems. Share your wisdom and witticisms with the world!



---

High-Level Positive Parenting Advice and Deep Insights
Positive Parenting Ally is the parenting equivalent of the Personal Development Guy. This is where you go if you want really deepen your understanding of parenting, empower your kids and make everyday life more easy and joyful.

Positive-Parenting-Ally.com
- Parenting advice for the conscious, open-minded parent!



Back to the top of this page about Arjuna Ardagh Helps Readers Awaken to Unity Consciousness
Where Would You Like to Go Next?
To see what has been added to this site recently (plus offers, etc.), check out
Blog & News at thePersonalDevelopmentGuy.com
To share your own
short
self improvement ideas, tips, musings, quotes, stories, spiritual jokes, etc. (and read the short ideas, etc. others have shared) jump to
Shared Blog: Self Improvement Ideas
Jump to
Self Help Books
.
List of articles about self help books listed alphabetically:
Alfred Adler
,
Barbara De Angelis
,
Maya Angelou Biography
,
Arjuna Ardagh
,
Richard Bandler
,
Brandon Bays
,
Alain de Botton
,
Gregg Braden
,
Brene Brown
,
Les Brown
,
Leo Buscaglia
,
Tony Buzan
,
Andrew Carnegie Biography
,
Carlos Castaneda
,
Pema Chodron
,
Deepak Chopra
,
Deepak Chopra Books
Paulo Coelho
,
Stephen Covey
,
Peter Drucker
,
T. Harv Eker
,
Masary Emoto
,
Timothy Ferriss
,
Debbie Ford
,
Viktor Frankl
,
Mahatma Gandhi
,
Gangaji
,
Shakti Gawain
,
Kahlil Gibran
,
Daniel Goleman
,
Amit Goswami
,
Alex Grey
,
Stanislav Grof
,
David Hawkins
,
Louise Hay
,
Hermann Hesse
,
Esther Hicks and Jerry Hicks
,
Napoleon Hill
,
Susan Jeffers
,
C G Jung
,
Jon Kabat-Zinn
,
Byron Katie
,
Robert Kiyosaki
,
Bruce Lipton
,
Ramana Maharshi
,
J W Marriott
,
Abraham Maslow
,
John Maxwell
,
Drunvalo Melchizedek
,
Anthony de Mello
,
Anthony De Mello Quotes
,
Dan Millman
,
Bruce Moen
,
Robert Monroe
,
Michael Newton
,
Daniel Pink
,
Dave Ramsey
,
Ayn Rand Books
,
James Redfield
,
Cheryl Richardson
,
Anthony Robbins
,
Anthony Robbins Books
Carl Rogers
,
Jim Rohn
,
Marshall Rosenberg
,
Geneen Roth
,
Don Miguel Ruiz
,
Robin Sharma
,
Barbara Sher
,
George Soros Biography
,
George Soros Quotes
,
Eckhart Tolle
,
Brian Tracy Books
,
Neale Donald Walsch
,
, Joe Vitale
,
Lyall Watson
,
Alan Watts
,
Stuart Wilde
,
Marianne Williamson
,
Larry Winget
,
Gary Zukav
,
Best Self Help Books
,
Self Help Books for Women
,
Jump to
the Personal Development Guy Homepage