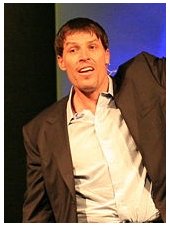 Anthony Robbins books have helped millions of people from countries all over the world and from all walks of life.
People have lost weight, improved their finances, developed self-esteem, found new careers, and improved relationships by following the self-help advice found in Anthony Robbins books.
Tony Robbins offers readers practical advice that includes exercises and a step-by-step blueprint for taking control of their minds and changing their lives for the better.
Anthony Robbins Books and NLP
One of the approaches Tony Robbins teaches is NLP, or neuro-linguistic programming. He learned NLP from its founder, John Grinder, and used it in his life coaching practice.
Anthony Robbins books are not about NLP only, but many of the exercises in them are based upon it. NLP has been around since the 1970s. It is a type of therapy, which in a sense, programs the mind to achieve certain goals. It is said to be a mix between personal development and psychotherapy. For example, one technique used in NLP is modeling, wherein a successful person's attributes are used as a model for someone who seeks success. The seeker mimics the successful person's actions and behaviors in the hope they will lead to his success too.
Anthony Robbins Motivational Speaker
Anthony Robbins books are bestsellers and they have sold millions of copies. He has also promoted a CD seminar by infomercial, which brought him worldwide recognition. In addition to Anthony Robbins books and CDs, Robbins also helps others in person and in live seminars.
More than 3.5 million people from over 100 different countries have attended one of Robbins' live speaking engagements. He is considered one of the top motivational speakers today and has delivered his message to major corporations, government leaders, and individuals. In his retreats, he motivates participants to the point where they are eager to walk across a bed of fire.
Anthony Robbins uses firewalking in his retreats as proof participants can do what they put their minds to. Tony Robbins seminars are very popular and often sell out early.
Tony Robbins Biography
Tony Robbins was born in California on February 29, 1960. His parents divorced when he was seven years old, and his mother remarried twice. His childhood was less than idyllic, and by the time he reached young adulthood he was broke, overweight, and down on his luck. Throughout it all, he held onto to his lifelong dream of someday being rich and living in a mansion.
Anthony Robbins' career took a course that would change him forever when he met Jim Rohn, and took a job promoting his seminars. Jim Rohn was a popular motivational speaker at the time who was a living example of a rags to riches story. Rohn encouraged Robbins to fulfill his dreams too.
Robbins began a life coaching practice and soon started hosting his own seminars. He learned NLP, hypnosis, and other self-help techniques and created home study courses he sold through infomercials. Within a short time, Anthony Robbins books and courses were bestsellers and he had become a household name. In the year 1984, he was able to move into his first mansion and make his long-held dream come true.
Anthony Robbins Books and Audio CDs
• "Unlimited Power: The New Science of Personal Achievement" is one of the top selling Anthony Robbins books. In this book, Robbins introduces seven disciplines for success to his readers. These include:

1. Stretching oneself
2. Accepting there is no failure, only learning opportunities
3. Taking responsibility for life creation
4. Nurturing unconscious competence
5. Living with personal integrity
6. Communicating effectively
7. Doing what it takes to succeed

Robbins explains how these seven principles can be applied to all areas of life including health issues, phobias, relationship problems, and money difficulties.

If you click on the image to the left it will open a new tab/window on Amazon.com, where users have given this book 4 stars out of 5.

The book can also be bought as an ebook in the flexible Amazon Kindle format (which works on PC, Mac, Android smartphone & tablet, iPad and iPhone) - to check out the Kindle ebook on Amazon.com, please click this link: Unlimited Power
• "Awaken the Giant Within: How to Take Immediate Control of Your Mental, Emotional, Physical and Financial Destiny!" is another of the Anthony Robbins books to become bestsellers. In this one, Tony Robbins teaches readers how to develop self-mastery, and use it to create a life that allows their deepest desires to unfold.

If you click on the image to the left it will open a new tab/window on Amazon.com, where users have given this book 4 stars out of 5.

• "Giant Steps" includes nuggets of wisdom from the two bestselling Anthony Robbins books, "Unlimited Power" and "Awaken the Giant Within." It pulls exercises from the books that can be used in a step-by-step fashion to help readers achieve their goals.

If you click on the image to the left it will open a new tab/window on Amazon.com, where users have given this book 4 stars out of 5.
• "Notes from a Friend: A Quick and Simple Guide to Taking Control of Your Life" started out as a self-published book by Anthony Robbins that was given away freely through his foundation. It was given to people in need so they could use the self-help advice in it to overcome their problems and get back on track to a happy and purposeful life.

If you click on the image to the left it will open a new tab/window on Amazon.com, where users have given this book 4.5 stars out of 5.

• "Lessons in Mastery" is an audio version of the self-help advice contained in other Anthony Robbins books. This CD is ideal for those who don't like to read or who don't have time. This motivational talk helps listeners decide what is important to them in life, how to harness their willpower, and how to make the needed changes to bring about the lives of their dreams.

If you click on the image to the left it will open a new tab/window on Amazon.

• "Get the Edge: A 7-Day Program To Transform Your Life" is another audio book that motivates listeners to take action. Robbins outlines a plan that helps listeners have more energy, improved health, sharper minds, and a happier life.

If you click on the image to the left it will open a new tab/window on Amazon.
• "Live with Passion!: Strategies for Creating a Compelling Future" is another audio CD based upon the popular Anthony Robbins books. Robbins offers listeners practical exercises and steps to do on a daily basis that will take them from a place of wishing for their dreams to come true to actually living their dreams.

If you click on the image to the left it will open a new tab/window on Amazon.
• "Ultimate Edge" is a collection that contains two DVDs and twenty CDs. It is a complete coaching program for personal mastery. In this Tony Robbins seminar on CD, Robbins explains how to achieve a state of peak performance in all areas of life including career, relationships, and health.

If you click on the image to the left it will open a new tab/window on Amazon.
• "The Path to Permanent Weight Loss" is a Tony Robbins seminar that includes four videos and two audio CDs. It is a motivational program for people who want to lose weight and get healthy. Robbins also helps participants cope with emotional eating so it no longer derails a healthy lifestyle.

If you click on the image to the left it will open a new tab/window on Amazon.
The Impact of Anthony Robbins Books
Anthony Robbins books contain the actionable self-help advice many people need in order to properly set life goals and then achieve them.
Going to a Tony Robbins seminar in person can be a life-changing event due to his gift of being able to motivate listeners. Not everyone is able to experience him in person and reading Anthony Robbins books and listening to his audio CDs are the next best things. His writing style makes reading his books enjoyable and productive. He has changed many lives through his written words alone.
Because the Anthony Robbins books and courses made him so successful, Robbins was able to establish the Anthony Robbins Foundation. This organization gives people who can afford it a way to give their time and money to those less fortunate. The Foundation provides food to the needy and has an annual Thanksgiving food drive. It also offers services to the homeless and prison inmates.
Anthony Robbins has devoted his career to helping others through his books, seminars, and charity, and many people's lives are better because of it.
---
The Personal Development Guy's Self Improvement Ezine (FREE)
Would you like to keep in touch - and get high-level tips and special bonuses? Then please sign up for my self improvement newsletter The Personal Development Guy's Self Improvement Ezine. It is totally FREE.
---
I LOVE Your Support
If you've found the free personal development content on this website useful, please click the Donate button. Your donation will help me to keep producing free, high-level self improvement information. I am VERY GRATEFUL for your support!
PayPal is one of the largest payment processors on the Internet. When you click the Donation Button, you can make a donation of your choice on an encrypted and secure page.
Thank you very much!
---
---

Inspirational Quotes, Poems and Funny Short Stuff
If you want, you can also get your personal development, spirituality and general wisdom in an ultra light version - or even add your own wisdom to the site. Just go to the other sister of this website at:


Quotescoop.com
- World's Best and YOUR Best Quotes, Poems and Short Funny Stuff

Quotescoop.com is also known as:
(http://www.inspirational-quotes-short-funny-stuff.com).
This is where you might go for a quick 'fix' of wisdom and humor. A special treat is that this site has forums for you to present your own wisdom and humor in the form of inspirational short funny quotes, jokes, notes, letters, stories, SMS text messages and poems. Share your wisdom and witticisms with the world!



---

High-Level Positive Parenting Advice and Deep Insights
Positive Parenting Ally is the parenting equivalent of the Personal Development Guy. This is where you go if you want really deepen your understanding of parenting, empower your kids and make everyday life more easy and joyful.

Positive-Parenting-Ally.com
- Parenting advice for the conscious, open-minded parent!



Back to the top of this page about Anthony Robbins Books Have Influenced Millions
Where Would You Like to Go Next?
To see what has been added to this site recently (plus offers, etc.), check out
Blog & News at thePersonalDevelopmentGuy.com
Jump to
Self Help Books
.
List of articles about self help books listed alphabetically:
Alfred Adler
,
Barbara De Angelis
,
Maya Angelou Biography
,
Arjuna Ardagh
,
Richard Bandler
,
Brandon Bays
,
Alain de Botton
,
Gregg Braden
,
Brene Brown
,
Les Brown
,
Leo Buscaglia
,
Tony Buzan
,
Andrew Carnegie Biography
,
Carlos Castaneda
,
Pema Chodron
,
Deepak Chopra
,
Deepak Chopra Books
Paulo Coelho
,
Stephen Covey
,
Peter Drucker
,
T. Harv Eker
,
Masary Emoto
,
Timothy Ferriss
,
Debbie Ford
,
Viktor Frankl
,
Mahatma Gandhi
,
Gangaji
,
Shakti Gawain
,
Kahlil Gibran
,
Daniel Goleman
,
Amit Goswami
,
Alex Grey
,
Stanislav Grof
,
David Hawkins
,
Louise Hay
,
Hermann Hesse
,
Esther Hicks and Jerry Hicks
,
Napoleon Hill
,
Susan Jeffers
,
C G Jung
,
Jon Kabat-Zinn
,
Byron Katie
,
Robert Kiyosaki
,
Bruce Lipton
,
Ramana Maharshi
,
J W Marriott
,
Abraham Maslow
,
John Maxwell
,
Drunvalo Melchizedek
,
Anthony de Mello
,
Anthony De Mello Quotes
,
Dan Millman
,
Bruce Moen
,
Robert Monroe
,
Michael Newton
,
Daniel Pink
,
Dave Ramsey
,
Ayn Rand Books
,
James Redfield
,
Cheryl Richardson
,
Anthony Robbins
,
Anthony Robbins Books
Carl Rogers
,
Jim Rohn
,
Marshall Rosenberg
,
Geneen Roth
,
Don Miguel Ruiz
,
Robin Sharma
,
Barbara Sher
,
George Soros Biography
,
George Soros Quotes
,
Eckhart Tolle
,
Brian Tracy Books
,
Neale Donald Walsch
,
, Joe Vitale
,
Lyall Watson
,
Alan Watts
,
Stuart Wilde
,
Marianne Williamson
,
Larry Winget
,
Gary Zukav
,
Best Self Help Books
,
Self Help Books for Women
,
To share your own
short
self improvement ideas, tips, musings, quotes, stories, spiritual jokes, etc. (and read the short ideas, etc. others have shared) jump to
Shared Blog: Self Improvement Ideas
Jump to
the Personal Development Guy Homepage