Alain de Botton is a modern day writer and philosopher whose work emphasizes philosophical aspects of every day life.
Rather than offering self improvement tips, his books encourage readers to contemplate upon life's issues. His first book, "Essays In Love" has sold over two million copies and inspired a movie.
Alain de Botton has written several books, both fiction and non-fiction, including some best sellers.
The Background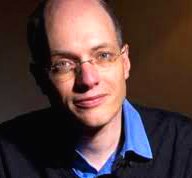 Alain de Botton was born in Zurich on December 20, 1969 into a Sephardic Jewish family. His father was a wealthy man who was fluent in 12 languages. He had a grandmother who became famous for being an Israeli intelligence officer and was even described as Israel's Mata Hari.
Alain de Botton was educated in England where he attended boarding school in Oxford and college in Cambridge. He also attended Harvard for a while when working on a degree in French Philosophy.
He published his first book at the age of 23 and immediately found success when "
Essays on Love
" became a best seller. After that, to the dismay of his father, he left his studies behind and focused on his writing.
You will find that many of the books mentioned below are also available as Kindle E-books and as audibles.
Books By Alain de Botton
• "Essays on Love" was first published in 1993. In countries outside the United States, the book was titled, "Essays in Love." It is available as a book and audio book. This work by Alain de Botton is a unique philosophical study of romantic love. It is written as a blend of fictional romance and non-fictional reflection and analysis. In 2010, this book was adapted into the movie "My Last Five Romances" by director Julian Kemp.

If you click on the image to the left it will open a new tab/window on Amazon.com, where users have given this book 4 stars out of 5

| | |
| --- | --- |
| | • "How Proust Can Change Your Life" was published in 1997 and is available as a book and audio book. This non-fiction work by Alain de Botton was a best seller in the UK and US. This is one of the more unique self help books on the market as it is comprised of philosophical reflections by Alain de Botton along with his analysis of the massive book "In Search of Lost Time" by Marcel Proust. "In Search of Lost Time" is one of the longest books in world literature and is said to have had a major impact on the literary world. Alain de Botton shows readers how to apply segments of the book to their personal lives in order to live more fully. |
| | |
| --- | --- |
| | • "The Consolations of Philosophy" was published in 2000 and is available as a book and audio book. This work was inspired by "Consolation of Philosophy," a book by the ancient philosopher Boethius. In the book by Boethius, philosophy appears to him as an allegorical figure. In the book by Alain de Botton, philosophical insights are offered on various aspects of everyday woes. These insights can be used as a type of self help advice and they were inspired by writings of some of the great thinkers throughout history such as Seneca, Nietzsche, Montaigne, Schopenhauer, Epicurus, and Socrates. |
| | |
| --- | --- |
| | • "The Art of Travel" was published in 2004 and is available as a Kindle ebook and book. In this work, Alain de Botton considers the writings of some famous travelers such as Wordsworth, Van Gogh, and Baudelaire. He also delves into the psychology of travel such as how we anticipate the experience, how we remember beautiful sights, the allure of exotic locations, how magnificent sights affect us, and how the mundane can hold meaning. |
| | |
| --- | --- |
| | • "Status Anxiety" was published in 2005 and is available as an ebook, book, and audio book. The self help advice in this book targets readers who worry about what other people think of them. Alain de Botton discuses how other people judge us and how it makes us feel. |
| | |
| --- | --- |
| | • "The Architecture of Happiness" was published in 2006 and is available as a book and audio book. In this work, Alain de Botton takes a look at architecture and how it influences individuals and societies, even though we are not aware of it. He also describes how human traits are reflected in the architecture we construct. Because of the success and impact of this book, Alain de Botton was named as the inspiration for a new architectural project called Living Architecture in the UK and he was appointed a position as an honorary fellow to the Royal Institute of British Architects. |
| | |
| --- | --- |
| | • "The Pleasures and Sorrows of Work" was published in 2008 and is available as an audio book, ebook, and traditional book. In this book, Alain de Botton turns his wit and wisdom towards the work place and offers inspirational self help advice to those seeking meaning from their jobs. He takes a look at various jobs and analyzes what makes them fulfilling or soul-crushing. |
| | |
| --- | --- |
| | • "A Week At The Airport" was published in 2009. This book came about when Alain de Botton won a competition for writer-in-residence at the Heathrow Airport. Along with a photographer, Alain de Botton spent a week at a desk in Terminal 5. He wrote about the people he saw coming and going over that time and compiled the stories into a book complete with photographs. |
| | |
| --- | --- |
| | • "Religion for Atheists: A Non-believer's Guide to the Uses of Religion" was published in 2012 and is available as a book, audio book, and ebook. Alain de Botton explains that even atheists can benefit from the teachings based in religion even if they don't believe in the supernatural stories. Rather than throwing out the teachings and making belief an all-or-nothing situation, Alain de Botton teaches important lessons can be learned about building better relationships, communities, and individual lives by applying some of the self improvement advice found in religious teachings. |
Other Work By Alain de Botton
Alain de Botton is a columnist and lecturer. He also owns his own production company called Seneca Productions, and creates documentaries for television that are derived from his works. He has also conducted numerous radio talks and interviews.
Alain de Botton is also a co-founder of The School of Life in London. This unique school offers self improvement classes that help people lead better lives.
---
The Personal Development Guy's Self Improvement Ezine (FREE)
Would you like to keep in touch - and get high-level tips and special bonuses? Then please sign up for my self improvement newsletter The Personal Development Guy's Self Improvement Ezine. It is totally FREE.
---
I LOVE Your Support
If you've found the free personal development content on this website useful, please click the Donate button. Your donation will help me to keep producing free, high-level self improvement information. I am VERY GRATEFUL for your support!
PayPal is one of the largest payment processors on the Internet. When you click the Donation Button, you can make a donation of your choice on an encrypted and secure page.
Thank you very much!
---
---

Inspirational Quotes, Poems and Funny Short Stuff
If you want, you can also get your personal development, spirituality and general wisdom in an ultra light version - or even add your own wisdom to the site. Just go to the other sister of this website at:


Quotescoop.com
- World's Best and YOUR Best Quotes, Poems and Short Funny Stuff

Quotescoop.com is also known as:
(http://www.inspirational-quotes-short-funny-stuff.com).
This is where you might go for a quick 'fix' of wisdom and humor. A special treat is that this site has forums for you to present your own wisdom and humor in the form of inspirational short funny quotes, jokes, notes, letters, stories, SMS text messages and poems. Share your wisdom and witticisms with the world!



---

High-Level Positive Parenting Advice and Deep Insights
Positive Parenting Ally is the parenting equivalent of the Personal Development Guy. This is where you go if you want really deepen your understanding of parenting, empower your kids and make everyday life more easy and joyful.

Positive-Parenting-Ally.com
- Parenting advice for the conscious, open-minded parent!


Back to the top of this page about Alain de Botton Uses Wit And Wisdom To Explore Philosophical Concepts
Where Would You Like to Go Next?
To see what has been added to this site recently (plus offers, etc.), check out
Blog & News at thePersonalDevelopmentGuy.com
To share your own
short
self improvement ideas, tips, musings, quotes, stories, spiritual jokes, etc. (and read the short ideas, etc. others have shared) jump to
Shared Blog: Self Improvement Ideas
Jump to
the Personal Development Guy Homepage
Jump to
Self Help Books
.
List of articles about self help books listed alphabetically:
Alfred Adler
,
Barbara De Angelis
,
Maya Angelou Biography
,
Arjuna Ardagh
,
Richard Bandler
,
Brandon Bays
,
Alain de Botton
,
Gregg Braden
,
Brene Brown
,
Les Brown
,
Leo Buscaglia
,
Tony Buzan
,
Andrew Carnegie Biography
,
Carlos Castaneda
,
Pema Chodron
,
Deepak Chopra
,
Deepak Chopra Books
Paulo Coelho
,
Stephen Covey
,
Peter Drucker
,
T. Harv Eker
,
Masary Emoto
,
Timothy Ferriss
,
Debbie Ford
,
Viktor Frankl
,
Mahatma Gandhi
,
Gangaji
,
Shakti Gawain
,
Kahlil Gibran
,
Daniel Goleman
,
Amit Goswami
,
Alex Grey
,
Stanislav Grof
,
David Hawkins
,
Louise Hay
,
Hermann Hesse
,
Esther Hicks and Jerry Hicks
,
Napoleon Hill
,
Susan Jeffers
,
C G Jung
,
Jon Kabat-Zinn
,
Byron Katie
,
Robert Kiyosaki
,
Bruce Lipton
,
Ramana Maharshi
,
J W Marriott
,
Abraham Maslow
,
John Maxwell
,
Drunvalo Melchizedek
,
Anthony de Mello
,
Anthony De Mello Quotes
,
Dan Millman
,
Bruce Moen
,
Robert Monroe
,
Michael Newton
,
Daniel Pink
,
Dave Ramsey
,
Ayn Rand Books
,
James Redfield
,
Cheryl Richardson
,
Anthony Robbins
,
Anthony Robbins Books
Carl Rogers
,
Jim Rohn
,
Marshall Rosenberg
,
Geneen Roth
,
Don Miguel Ruiz
,
Robin Sharma
,
Barbara Sher
,
George Soros Biography
,
George Soros Quotes
,
Eckhart Tolle
,
Brian Tracy Books
,
Neale Donald Walsch
,
, Joe Vitale
,
Lyall Watson
,
Alan Watts
,
Stuart Wilde
,
Marianne Williamson
,
Larry Winget
,
Gary Zukav
,
Best Self Help Books
,
Self Help Books for Women
,