• Meet 10 women & men who are great leadership examples

• Study them to learn important traits of a good leader ...
• ... and to see different examples of leadership styles

• Model things you can use from each of them to become a leader yourself
Examples of Leadership Are Found Everywhere!
Not all great leaders are born; most of us who want to be better leaders need to learn how to go about it (see also
What Makes a Good Leader - The Traits of a Good Leader
).
One of the best ways to learn is by studying examples of leadership and trying to discern what makes those leaders successful.
Although they may be, great leaders are not necessarily leaders of countries or in charge of big corporations / organizations.
A leader can also be a Sunday school teacher, a scout leader, a community leader, a charity organizer, a person in middle management, or a shift worker. The leadership position can be an official one, or one that develops naturally due to the situation, or one that's due to innate abilities.
And, if you've ever seen a loving, but efficient single mother (or: father) with a couple of kids, you know that great leaders exist on every level.
Let's look at some famous leaders and briefly examine examples of leadership styles.
Leadership Examples ... no. 1:
Mahatma Gandhi
Mohandas Karamchand Gandhi (1869-1948) - who was and still is referred to by the honorific Mahatma (meaning 'Great Spirit') is often held up as one of the great leadership examples.
He was an Indian lawyer who, using total nonviolence (Indian: 'ahimsa'), honesty and civil disobedience led his country to freedom from one biggest superpowers of that time, the British Empire.
From him we can learn important qualities like determination, humility, and, of course, honesty and non-violence. He didn't have to brow beat people into supporting him. He didn't have to resort to outlandish promises or dishonesty. Gandhi simply held to his beliefs and because of his authentic nature, people were drawn to him and decided to support him.
Leadership Examples ... no. 2:
Indra Nooyi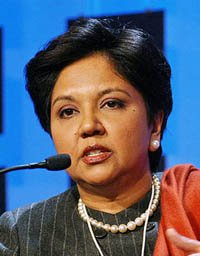 Indra Nooyi (full name: Indra Krishnamurthy Nooyi, born 1955) is another of the great leadership examples. She is the CEO of PepsiCo, presides over 185,000 employees and has reinvented this giant company in a time when many others are struggling.
She is often mentioned as one of the 10 most powerful women in business.
Although she has a powerful job, she cares about all people and the planet. She is determined to make PepsiCo a "green company" and make the switch from a junk food company to one that offers healthy options.
Because of her passion and commitment to her ideals, she is an inspiration and great leader that earns a lot of respect.
Love and Passion!
From these two examples of leadership, we can learn one important common trait. These leaders are passionate about their causes and beliefs.
To be a really good leader, you need to be passionate, and passion is actually a form of love.
Thus, there is no getting around it - love is the most important and powerful of all the traits of a good leader. The really great spiritual leaders (founders of religions) over time have displayed this trait, too.
You may not be in a position to change a huge company, or the world, but you can start where you are and pour your love and passion into your beliefs. When you do that, you are being authentic and it will draw like minded supporters to you.
Leadership Examples ... no. 3:
Jeff Bezos
Jeff Bezos (full name: Jeffrey Preston Bezos, born 1964) is the founder of Amazon, the largest retailer on the Internet.
He is considered a true internet pioneer and leader in the industry.
In an interview with U.S. News, he attributes his success to keeping an eye on his long term goal and ignoring the critics who tried to distract him along the way. Because of his vision and willingness to fail during the learning process, he drew the right kind of people into his organization that helped him create the giant company that Amazon has become today.
From leadership examples like this we learn how important it is to keep your eye on the end goal - and to allow yourself and others to fail. A leader with optimistic determination inspires confidence and loyalty among his followers.
A great leader knows how to set the proper goals and is determined to achieve them. He may not know the certain path to take, and is quite willing to fail trying to figure it out, knowing success will come eventually.
Leadership Examples ... no. 4:
Martin Luther King, Jr.
Martin Luther King, Jr. (1929-1968) is remembered as a great leader today. He was passionate about the African-American civil rights cause, plus about ending poverty. Like Mahatma Gandhi he advocated non-violence. In 1986 the third Monday of January each year was established as a U.S. national holiday called Martin Luther King, Jr. Day.
Like many other leadership examples, he was passionate about his beliefs and stood up for them in a nonviolent way. However, the thing that made King such a great leader was his ability to inspire people to take action and join his cause. His "I Have a Dream" speech in 1963 is world famous.
This drives home the importance of learning how to inspire and influence people in order to lead. You can be passionate and have great visions for the future, but if you do not know how to inspire people, you may never gain the followers you need - whether it is political backers or shift workers.
This is a more practical aspect of being a great leader since many of us are not born with the ability to be a great communicator. Luckily, this is a skill that can be learned whether you intend to give speeches or just want to communicate better with your group.
Leadership Examples ... no. 5:
Margaret Thatcher
British prime minister for an unprecedented three terms from 1979 to 1990 Margaret Thatcher (full name: Margaret Hilda Thatcher, Baroness Thatcher, née Roberts; born 1925) was a forceful leader with an ideology that more or less matched American president Ronald Reagan (1911-2004) - who was also one of her close friends.
Her deeply conservative style of leadership was so forceful she earned the 'title' of 'Iron Lady' and had a specific term named after her - 'Thatcherism', which referred to both her uncompromising focus on achieving political goals and her personal prim, hard nosed style and unflinching ethics. No matter what kind of opposition she encountered she always 'stuck to her guns'.
From the 'Iron Lady' of Great Britain we might learn a lesson about not being one of those which-ever-way-the-wind-blows kinds of leaders, and not compromising too much, but rather sticking to our ideals - even in the face of opposition.

Leadership Examples ... no. 6:
John F. Kennedy
When asked to think of a great leader in American history, many people automatically think of President John F. Kennedy (full name: John Fitzgerald "Jack" Kennedy, 1917-1963).
Because of his charismatic personality and commitment to his vision, he attracted many followers to him and Americans still consider him one of their most popular presidents, ever.
Not everyone can be a leader like Kennedy because natural leadership and charisma is not something that can be learned faked. You have it or you don't.
However, examples of leadership like John F. Kennedy - born leaders - are important for groups and corporations to learn from, anyway. The shining examples of natural born leaders can teach us about the power of charisma - and having a leader with great personal magnetism to act as a bridge between the varied people and groups who have a vested interest in the goings on of an organization is priceless.
That being said, most of
What Makes a Good Leader? - The Traits of a Good Leader
can actually be taught and learned.
Leadership Examples ... no. 7:
Bill Gates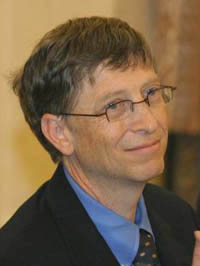 Other leadership examples aren't so dependent upon charisma. Take Bill Gates (full name: William Henry "Bill" Gates III, born 1955) for instance. He founded Microsoft (with Paul Allen) and in 1987, at the tender age of 31, he was named the world's youngest self-made billionaire. He has been one of the world's richest men ever since.
Although his business methods have been criticised as being monopolistic (and his company has received the concurring judgement of the courts on the matter as well) he is not only a great philanthropist, but also one of the greatest business leaders of our time. However ... he is certainly not known for having a magnetic personality.
Instead, he exudes an air of authority, confidence, expertise and credibility. He has kept his eye on the future of his industry and has led his company to the top.
From him we can learn how to command respect and lead others when we come from a position of expertise and authority.
Find Your Own Path!
The leadership examples of Kennedy and Gates are about as opposite as can be, yet they are both considered to be among the greatest leaders in modern times.
This can inspire us and help us realize we can find our own path.
You do need the love, passion and integrity, but you don't have to be born with great looks or a winning personality in order to become a successful leader.

Leadership Examples ... no. 8:
Martha Stewart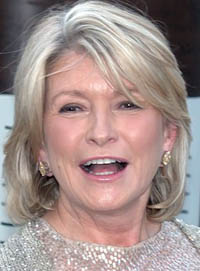 When considering examples of leadership, you might not immediately consider Martha Stewart (full name: Martha Helen Stewart, née Kostyra; born 1941) because she is often seen as a controversial figure with a stern personality. Also, she has been in prison (in 2004) for lying to investigators about a stock sale. But she is one of those driven people who just won't stay down.
She is an American television host, author, magazine publisher and all round business magnate, so there is no denying she is an excellent business leader and she has been able to weather many storms in her career and still come out on top.
Much of her success can probably be attributed to her attitude of 'never give up' plus her leadership style that is strict and demanding. She knows what she wants and expects full effort from her staff and associates. And, as mentioned, she won't stay down.

Leadership Examples ... no. 9:
Walt Disney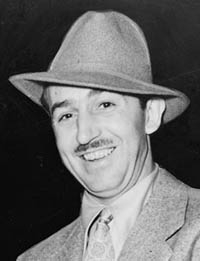 Walt Disney (full name: Walter Elias "Walt" Disney, 1901-1966), American entrepreneur, entertainer, producer, film director, screenwriter, voice actor, animator, philanthropist and creator of Mickey Mouse, Donald Duck and much more, is another of the non-typical leadership examples.
He followed his passion and grew a simple comic strip to a global corporation that earns more than $35 billion per year today.
His driving force was a desire to share art and fun with people around the world. He indulged in his passion and fuelled it with his imagination to believe that anything is possible.
From him we can learn the importance of following our dreams and letting our enthusiasm and belief lead others into achieving great things. And yes, almost anything IS indeed possible!

Leadership Examples ... no. 10:
John D. Rockefeller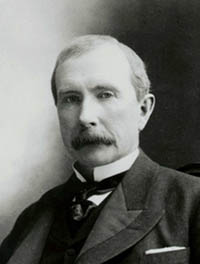 John D. Rockefeller (full name: John Davison Rockefeller, 1839-1937) was a true leader in every sense of the word.
Not only did he revolutionize the petroleum industry and become an oil magnate and one of the richest people in the world, he also was one of the world's greatest philanthropists.
Some have calculated Rockefeller to be the richest person in history when adjustments are made for inflation. However, he didn't use his vast wealth for personal gain only. He used it to shape the world and lead others to a better life.
Rockefeller founded universities, supported religious causes, and backed medical research to eradicate diseases of his day. He touched many lives because of his desire to make the world a better place.
His leadership example teaches us being a great leader is about more than just taking a company to the top of the charts, it's about making life better for those who believe in us.
Final Words: Use Modeling
There are many great leadership examples you can learn other useful tidbits from.
Just choose a person you admire ... be that a successful politician, a CEO, a school soccer team coach or a single mom, and study the qualities that make her or him great.
Modeling is one of the roads to success. If someone else has success following a certain path, if you follow that path, you are more likely to have success as well.
Therefore, do spend some time reading about examples of leadership, reflect upon them and apply their traits to your own life. Whether you go on to lead a big company, a department, a group of kids in a sports club or you simply end up leading just yourself, you can still become a great leader, and both you and the world will be the better for it!
---
The Personal Development Guy's Self Improvement Ezine (FREE)
Would you like to keep in touch - and get high-level tips and special bonuses? Then please sign up for my self improvement newsletter The Personal Development Guy's Self Improvement Ezine. It is totally FREE.
---
I LOVE Your Support
If you've found the free personal development content on this website useful, please click the Donate button. Your donation will help me to keep producing free, high-level self improvement information. I am VERY GRATEFUL for your support!
PayPal is one of the largest payment processors on the Internet. When you click the Donation Button, you can make a donation of your choice on an encrypted and secure page.
Thank you very much!
---
---

Inspirational Quotes, Poems and Funny Short Stuff
If you want, you can also get your personal development, spirituality and general wisdom in an ultra light version - or even add your own wisdom to the site. Just go to the other sister of this website at:


Quotescoop.com
- World's Best and YOUR Best Quotes, Poems and Short Funny Stuff

Quotescoop.com is also known as:
(http://www.inspirational-quotes-short-funny-stuff.com).
This is where you might go for a quick 'fix' of wisdom and humor. A special treat is that this site has forums for you to present your own wisdom and humor in the form of inspirational short funny quotes, jokes, notes, letters, stories, SMS text messages and poems. Share your wisdom and witticisms with the world!



---

High-Level Positive Parenting Advice and Deep Insights
Positive Parenting Ally is the parenting equivalent of the Personal Development Guy. This is where you go if you want really deepen your understanding of parenting, empower your kids and make everyday life more easy and joyful.

Positive-Parenting-Ally.com
- Parenting advice for the conscious, open-minded parent!



Back to the top of this page about Leadership Examples You Can Learn From
Where Would You Like to Go Next?
To see what has been added to this site recently (plus offers, etc.), check out
Blog & News at thePersonalDevelopmentGuy.com
To share your own
short
self improvement ideas, tips, musings, quotes, stories, spiritual jokes, etc. (and read the short ideas, etc. others have shared) jump to
Shared Blog: Self Improvement Ideas
List of all the subpages to the
main page
What Makes a Good Leader:
Leadership Definition: What is Leadership?
,
Characteristics of a Good Leader
,
Leadership Theories
,
Leadership Examples
Jump to
the Personal Development Guy Homepage