"How people treat you is their karma, how you react is yours"

~
Wayne Dyer
~

"You are not stuck where you are unless you decide to be."
~
Wayne Dyer
~

"The only limits we have are the limits we believe."
~
Wayne Dyer
~

"Enjoying life is far superior to being graded on your performance in life."
~
Wayne Dyer
~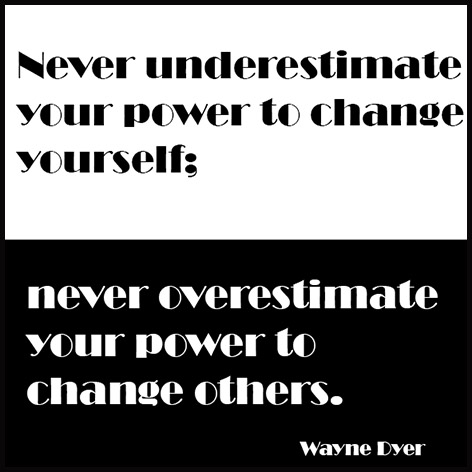 The Beginning
Born in Detroit, Michigan in 1940, Wayne Dyer spent much of his childhood living in orphanages and foster homes. Wayne Dyer quotes the "obstacles" in his childhood as being almost directly responsible for his success today.
Despite being, a quiet child who, because of his lack of family life and transient lifestyle, struggled to connect emotionally with people – Dyer knew his destiny lay in helping others.
Many of Dyer's motivational quotes reflect on confronting loneliness and understanding the power of self.
"You are not alone if you like the person you are alone with".
Despite the difficult start to his life, Dyer successfully graduated from high school and, upon graduation, went on to spend four years in the United States Navy. Following his time with the Navy, Dyer attended Wayne State University, which he graduated from with his D. Ed degree in counselling.

"Begin to see yourself as a soul with a body, rather than a body with a soul"

~
Wayne Dyer
~

"Be miserable. Or motivate yourself. Whatever has to be done, it's always your choice."
~
Wayne Dyer
~

"You are in a partnership with all other human beings, not a contest to be judged better than some and worse than others."
~
Wayne Dyer
~

"You leave old habits behind by starting out with the thought, 'I release the need for this in my life'."
~
Wayne Dyer
~

"All blame is a waste of time."
~
Wayne Dyer
~

"You get treated in life the way you teach people to treat you."
~
Wayne Dyer
~

"When you abandon making choices, you enter the vast world of excuses."
~
Wayne Dyer
~

"The purpose of dancing isn't to end up at a particular spot on the floor. The purpose of dancing and of life is to enjoy every moment and every step, regardless of where you are when the music ends."
~
Wayne Dyer
~
Career and Achievements
Wayne Dyer's ultimate goal as he set out on his desired career path was to set up his own therapy center. While doing this, he worked as a high school counselor in Detroit, as well as a professor of counselor education in New York.
His lectures were always extremely popular with the students and he soon became known for his motivational speeches and talks on achieving positive thinking.
Wayne Dyer quotes a chance meeting with a literary agent as being the catalyst to what can only be described as "overnight success". The agent, having seen some of Dyer's motivational talks, encouraged him to document his theories in a book. Dyer did just that and before most publishers knew what time of day it was – "
Your Erroneous Zones
" had topped bestseller charts and was easily outselling more established authors in the genre.
Quotations from Wayne Dyer's autobiography describe this time as exciting for Dyer, despite the fact he did not really have a plan of action. He was very much taking it in his stride and living for each moment.
The success of his first book led to several appearances on television including "Phil Donohue" and "The Tonight Show".
Dyer may not have seen his roaring success coming but he was determined to build on it and quickly organized production of audio tapes, as well as a series of lecture tours.
He was also contracted to produce regular book publications.
Wayne Dyer quotes his troubled childhood and self-made man story as being the real secrets to his success. People can connect with Dyer, and identify with his life.
Wayne Dyer's motivational quotes and lectures include many personal aspects of his own life – something that endears him to his fans.
As time went on, Dyer has introduced more spirituality into his work, with his books "
Real Magic
" and "
Your Sacred Self
" discussing the many different components of spirituality, as well as information on the "
higher consciousness
".
To date, Wayne Dyer has published over 30 books and made many videos and audio tapes. As well as a strong social media presence, Dyer has his own YouTube channel.

"If you change the way you look at things, the things you look at change"
~
Wayne Dyer
~

"Peace is the result of retraining your mind to process life as it is, rather than as you think it should be."
~
Wayne Dyer
~

"If we focus on what's ugly, we attract more ugliness into our thoughts, and then into our emotions, and ultimately into our lives"
~
Wayne Dyer
~

"Judgements prevent us from seeing the good that lies beyond appearances."
~
Wayne Dyer
~
"
When you judge another, you do not define them, you define yourself."
~
Wayne Dyer
~

"The antidote to fear is faith."
~
Wayne Dyer
~

"You are always a valuable, worthwhile human being -- not because anybody says so, not because you're successful, not because you make a lot of money -- but because you decide to believe it and for no other reason."
~
Wayne Dyer
~
Fans and Critics
Wayne Dyer says his fans are being "like family", which isn't surprising as he is one of the most well thought of motivational speakers and authors of modern times. Lovingly called "Father of Motivation" by his fans, the many obstacles he faced as a child makes his success even more endearing to the league of Dyer fans across the world.
Quotations by Wayne Dyer not only encourage people to change in a positive way, they make the people believe they can change.
Dyer is quick to point out his reversal of fortunes as an example of how positive thinking can help turn a person's life around.
Rather than just telling people to change, Dyer shows people how they can achieve it and this is most definitely his unique selling point.
Unfortunately, as with many motivational coaches and authors, Dyer also has his critics. Maybe the harshest critics came when he took part in a pledge drive for network PBS. Not only was he accused of providing "insincere platitudes", his talks were said to lack substance and intellect.
Wayne Dyer quotes from his book "Change your Thoughts – Change your Life" in response to his critics – "The highest form of ignorance is when you reject something you know nothing about". Another critic – author Stephen Mitchell – also sued Dyer for Plagiarism in 2010, accusing him of stealing 200 lines of his own work to use in two of his books. Wayne Dyer strongly denied the allegation, insisting the lines were his own interpretation of the subject.

"Anything you really want you can attain, if you really go after it"
~
Wayne Dyer
~

"Discontinue deciding what anyone else should or shouldn't be doing."
~
Wayne Dyer
~

"Go for it now. The future is promised to no one."
~
Wayne Dyer
~

"The state of your life is nothing more than a reflection of the state of your mind."
~
Wayne Dyer
~

"Doing what you love is the cornerstone of having abundance in your life."
~
Wayne Dyer
~

"Love is the ability and willingness to allow those that you care for to be what they choose for themselves without any insistence that they satisfy you."
~
Wayne Dyer
~

"The highest form of ignorance is when you reject something you don't know anything about"
~
Wayne Dyer
~

"No one can create negativity or stress within you. Only you can do that by virtue of how you process your world."
~
Wayne Dyer
~
Now...
At 72-years old, Wayne Dyer insists he is a long way off retiring, although he is enjoying more quality with his family.
He still makes regular appearances on television and hundreds and thousands of people via YouTube watch his audio tapes and filmed lectures.
Wayne Dyer quotes are regularly used on television – in films and documentaries and Wayne Dyers books continue to sell and sell well. His most recent claim to fame was an appearance in Toy Story 3 – where the voice over from one of his lectures was used. Wayne Dyer quotes this as one of his biggest achievements, if only because of the credibility points he earned with his grandchildren.

"What we think determines what happens to us, so if we want to change our lives, we need to stretch our minds."
~
Wayne Dyer
~

"Your children will see what you're all about by how you live, not what you say"
~
Wayne Dyer
~

"Don't die with the music still in you."
~
Wayne Dyer
~

"Once you believe in yourself and see your soul as divine and precious,

you'll automatically be converted to a being who can create miracles."
~
Wayne Dyer
~
---
The Personal Development Guy's Self Improvement Ezine (FREE)
Would you like to keep in touch - and get high-level tips and special bonuses? Then please sign up for my self improvement newsletter The Personal Development Guy's Self Improvement Ezine. It is totally FREE.
---
I LOVE Your Support
If you've found the free personal development content on this website useful, please click the Donate button. Your donation will help me to keep producing free, high-level self improvement information. I am VERY GRATEFUL for your support!
PayPal is one of the largest payment processors on the Internet. When you click the Donation Button, you can make a donation of your choice on an encrypted and secure page.
Thank you very much!
---
---

Inspirational Quotes, Poems and Funny Short Stuff
If you want, you can also get your personal development, spirituality and general wisdom in an ultra light version - or even add your own wisdom to the site. Just go to the other sister of this website at:


Quotescoop.com
- World's Best and YOUR Best Quotes, Poems and Short Funny Stuff

Quotescoop.com is also known as:
(http://www.inspirational-quotes-short-funny-stuff.com).
This is where you might go for a quick 'fix' of wisdom and humor. A special treat is that this site has forums for you to present your own wisdom and humor in the form of inspirational short funny quotes, jokes, notes, letters, stories, SMS text messages and poems. Share your wisdom and witticisms with the world!



---

High-Level Positive Parenting Advice and Deep Insights
Positive Parenting Ally is the parenting equivalent of the Personal Development Guy. This is where you go if you want really deepen your understanding of parenting, empower your kids and make everyday life more easy and joyful.

Positive-Parenting-Ally.com
- Parenting advice for the conscious, open-minded parent!