C S Lewis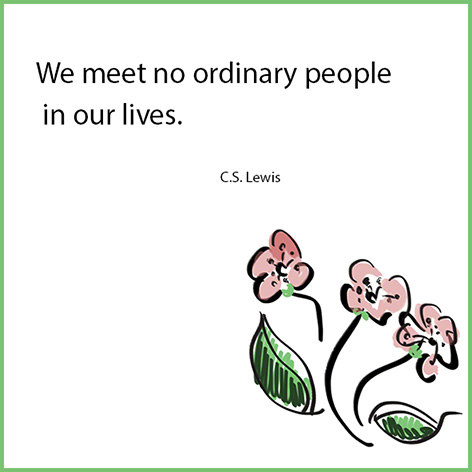 C S Lewis sayings and quotes are used today in every thing from literature classes to church sermons.
And while Lewis is most popularly known for being the author of 'The Chronicles of Narnia', a book which has also been successfully reproduced for television, film and stage – C S Lewis was also an academic, essayist, medievalist and lay theologian.

"You are never too old to set another goal or to dream a new dream"
~
C S Lewis
~
The Beginning.....
Born in 1898, Clive Staples Lewis was called "Jack" by his family and close friends. C S Lewis says about his father, a well-known solicitor of the times and his mother, an Anglican priest's daughter, that they were the two biggest influences on his life.
Lewis' obsession with books started at a young age, when he found himself engrossed in the animal world created by Beatrice Potter.
When it came to education, Lewis was tutored from home by professional tutors until he was 11.He then enrolled in the same school as his brother, although this was closed shortly after due to a lack of pupils.
CS Lewis quotes this time of his life as being the hardest with which he had to cope, as it marked the early death of his mother from cancer. Around about the same time, Lewis denounced all belief in religion and declared himself an atheist. His fascination with anything and everything mysterious also seems to have started around the same time. C S Lewis states in his auto-biography "Chatres" that his life-long interest in the occult and mythology also intensified around this time period.
Lewis had a particular interest in Norse mythology and virtually anything Scandinavian.

"Some day you will be old enough to start reading fairy tales again."
~ C.S. Lewis ~

"Write about what really interests you, whether it is real things or imaginary things, and nothing else."
~ C.S. Lewis ~
After receiving a scholarship for the most respected Oxford University, Lewis moved to England in 1918. His arrival in England marked another down point in his life, as he suffered culture shock that was to last several years. C S Lewis says that "Nobody from England will ever be able to understand my first impressions of the country".
So bad was the shock of moving from his beloved Ireland – he admits in his auto-biography that "his hatred for England was so bad, it took many years to heal".
Lewis was to return to Oxford University after studying there except this time in the role of tutor and it is here where he first met life-long friend and "Lord of the Rings" author J.R.R Tolkein.
The pair formed a writers group known as "the inklings" and between them they managed to tutor and mentor some of the country's finest authors and poets.
CS Lewis quotes Tolkein as being the major reason behind his return to religion – and at the age of 32 he became a layman of the Church of England. Not long after Lewis released his first novel, and the rest as they say is history.

"Aim at heaven and you will get Earth thrown at you, aim at Earth and you'll get neither"
~
C S Lewis ~

"You can never get a cup of tea large enough or a book long enough to suit me."
~ C.S. Lewis ~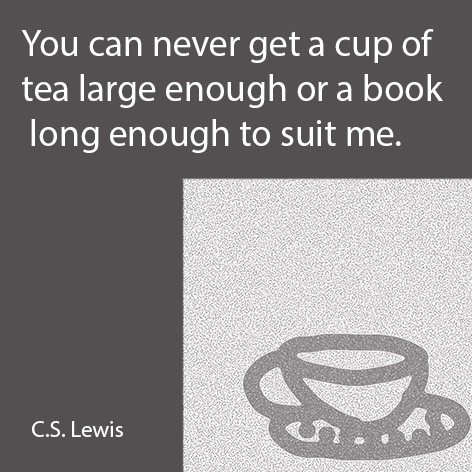 Work, Work, Work....
"The Pilgrim's Regress", published in 1933 depicted Lewis' experience with Christianity and while the book saw relative success, Lewis made it clear that he wasn't overly keen on repeating the experience.
When asked by a friend when he planned on producing another book, C S Lewis quotes himself as saying "When I am able to understand prayer".
Of course Lewis did continue to write and "The Space Trilogy" became his next offering. Concentrating on science fiction, the first book in the series was said to have been as a result of a conversation Lewis had with J.R.R Tolkein.
The year 1949 marked the first in a seven book collection by Lewis that would ensure his name as an author would never be forgotten. "The Chronicles of Narnia" were written over a six year period and even CS Lewis quotes the collection as being his favorite pieces of work.
Pure escapism for people of all ages, to date "The Chronicles of Narnia" have been published in 20 different countries with video, TV and theatre versions being produced all the time.
In between writing his successful novels, Lewis wrote a number of novellas and short stories. However, nothing he wrote after the Chronicles saw any real success. C S Lewis quotes "the Chronicles of Narnia were my peak and something I couldn't and wouldn't top".

"Nobody ever told me that grief felt very much like fear"
~
C S Lewis ~

"Love is not affectionate feeling, but a steady wish for the loved person's ultimate good as far as it can be obtained."
~ C.S. Lewis ~

"I'm on Aslan's side even if there isn't any Aslan to lead it. I'm going to live as like a Narnian as I can even if there isn't any Narnia."
~ C.S. Lewis ~

"Crying is all right in its way while it lasts. But you have to stop sooner or later, and then you still have to decide what to do."
~ C.S. Lewis ~

"Even in literature and art, no man who bothers about originality will ever be original: whereas if you simply try to tell the truth (without caring twopence how often it has been told before) you will, nine times out of ten, become original without ever having noticed it."
~ C.S. Lewis ~

"Education without values, as useful as it is, seems rather to make man a more clever devil."
~ C.S. Lewis ~

"Miracles are a retelling in small letters of the very same story which is written across the whole world in letters too large for some of us to see."
~ C.S. Lewis ~

"We meet no ordinary people in our lives."
~ C.S. Lewis ~

"What you see and what you hear depends a great deal on where you are standing. It also depends on what sort of person you are."
~ C.S. Lewis ~

"A proud man is always looking down on things and people; and, of course, as long as you are looking down, you cannot see something that is above you."
~ C.S. Lewis ~

"Integrity is doing the right thing, even when no one is watching."
~ C.S. Lewis ~

"True humility is not thinking less of yourself; it is thinking of yourself less."
~ C.S. Lewis ~

"If we let ourselves, we shall always be waiting for some distraction or other to end before we can really get down to our work. The only people who achieve much are those who want knowledge so badly that they seek it while the conditions are still unfavorable. Favorable conditions never come."

Fans and Critics

Lewis had fans from the outset, many being students, lecturers and other people whose life he had touched with his profound outlook at life.
However, when he released his first novel " The Pilgrim's Regress" he experienced harsh criticism from many, who believed the book lacked substance and was generally poorly written. If Lewis was affected by the critics, he didn't let it show, C S Lewis quotes himself in his own auto-biograpghy as saying he was "happy how well received my work has been."
Although the critics went into hiding for the next fifteen years, his work following the "The Chronicles of Narnia" was heavily criticised. Despite the bumpy road, there is no denying that C S Lewis went on to become a national treasure.

"The future is something which everyone reaches at the rate of 60 minutes an hour, whatever he does, whoever he does"
~
C S Lewis
And Then....

C S Lewis quotes are as popular today as they were when he was alive and "The Chronicles of Narnia" are part of modern day curriculum in schools across the world.
There is no doubt he left a mark on the literary world however, as well as being a popular author and tutor, Lewis is also one of the most influential Christian apologists of recent times. "Mere Christianity", a book by Lewis was named as the best book ever written by Christians. C S Lewis states the fact that he was an atheist who returned to the fold that made him so popular with people of religion.
While Lewis tended to be outspoken in his pieces, he rarely looked for confrontation in life. However, when he was accused of "veiling pro-Christian messages" in his "Chronicles of Narnia" collection, Lewis was angry. CS Lewis quotes the Chronicles as being nothing more than escapist fiction. Lewis was rarely videotaped or recorded,mhowever C S Lewis quotes on Christianity are in existence although there is only thought to be one reel from the BBC that is completely authenticated. (https://www.youtube.com/watch?v=JHxs3gdtV8A)
Lewis' colorful life ended on the 23rd of November 1963, which was also the day president John F Kennedy was assassinated in America. This meant Lewis' passing was more or less overlooked, however his legacy goes on.
As well as C S Lewis quotes being used in everything from school lessons to Hollywood blockbusters, Lewis has also had some pieces of his work published posthumously. Maybe most interesting was the find made in 2009, when an apparent partially finished manuscript written by C S Lewis and J.R.R. Tolkein was discovered. Whether this actually exists is purely speculative for his fans, who are still patiently waiting for the manuscript to be published.
---
The Personal Development Guy's Self Improvement Ezine (FREE)
Would you like to keep in touch - and get high-level tips and special bonuses? Then please sign up for my self improvement newsletter The Personal Development Guy's Self Improvement Ezine. It is totally FREE.
---
I LOVE Your Support
If you've found the free personal development content on this website useful, please click the Donate button. Your donation will help me to keep producing free, high-level self improvement information. I am VERY GRATEFUL for your support!
PayPal is one of the largest payment processors on the Internet. When you click the Donation Button, you can make a donation of your choice on an encrypted and secure page.
Thank you very much!
---
---

Inspirational Quotes, Poems and Funny Short Stuff
If you want, you can also get your personal development, spirituality and general wisdom in an ultra light version - or even add your own wisdom to the site. Just go to the other sister of this website at:


Quotescoop.com
- World's Best and YOUR Best Quotes, Poems and Short Funny Stuff

Quotescoop.com is also known as:
(http://www.inspirational-quotes-short-funny-stuff.com).
This is where you might go for a quick 'fix' of wisdom and humor. A special treat is that this site has forums for you to present your own wisdom and humor in the form of inspirational short funny quotes, jokes, notes, letters, stories, SMS text messages and poems. Share your wisdom and witticisms with the world!



---

High-Level Positive Parenting Advice and Deep Insights
Positive Parenting Ally is the parenting equivalent of the Personal Development Guy. This is where you go if you want really deepen your understanding of parenting, empower your kids and make everyday life more easy and joyful.

Positive-Parenting-Ally.com
- Parenting advice for the conscious, open-minded parent!