Mini Demotivational Poster (Demotivator) from BadSelfHelp.com
- Fun Self Help
to Instantly Demotivate You
by www.BadSelfHelp.com
(USA)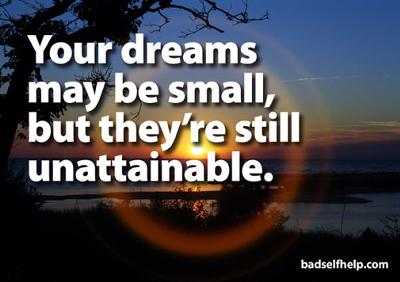 (Visitor's Self Improvement Ideas:)


"Your dreams may be small, but they're still unattainable."

BadSelfHelp.com adds:

Just remember, when your small, insignificant dreams don't come true, at least you will have lost relatively little.

(This is a mini demotivational poster (Demotivator) from BadSelfHelp.com - fun self help to instantly demotivate you).
Join in and write your own page! It's easy to do. How? Simply click here to return to Short Self Improvement Ideas.